Bolier Modern Metrolpolis is a 12-piece collection comprised of dining room and occasional forms designed by Michael Kirkpatrick.
[Find Decca on the BCFA Product Finder]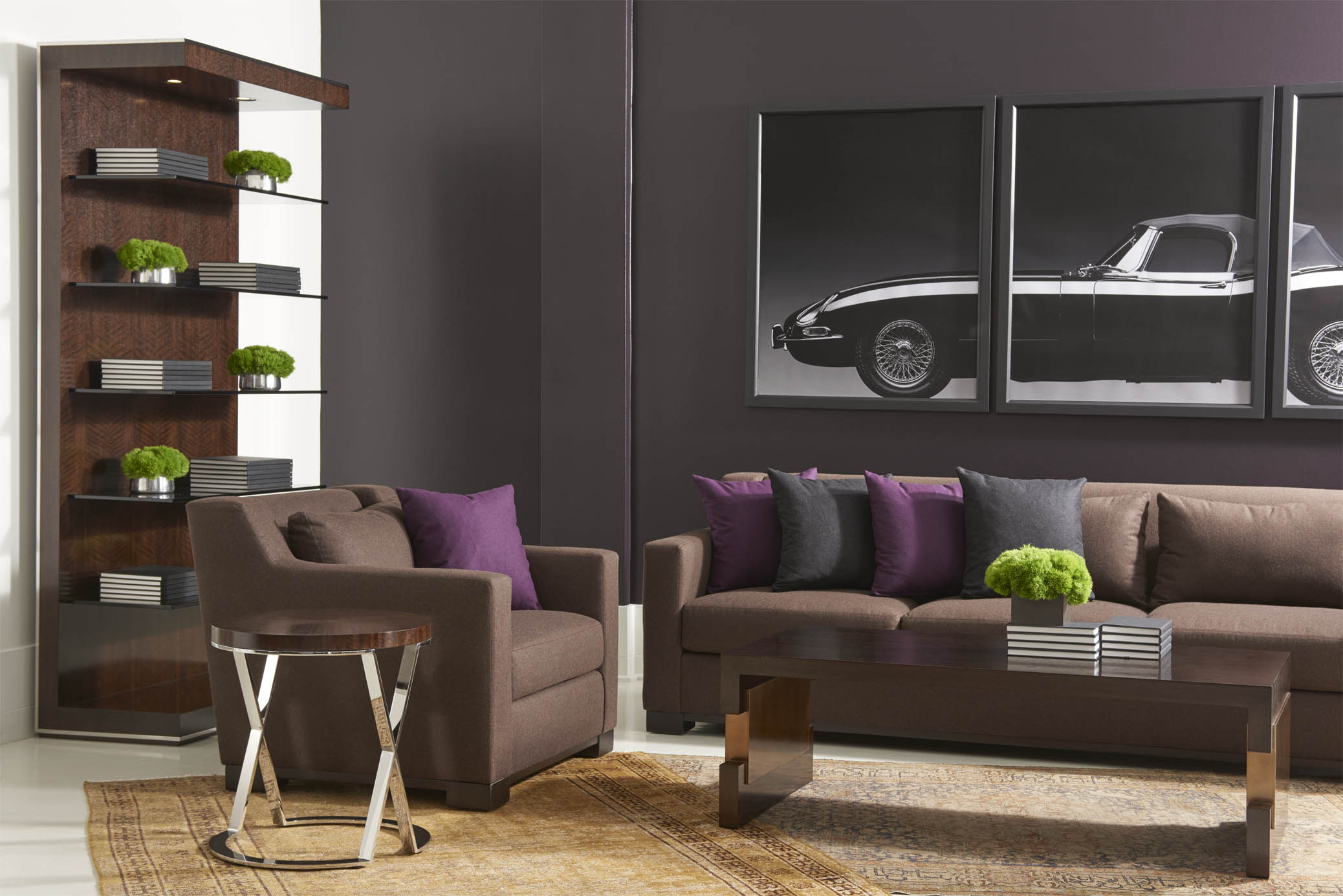 A mixture of clean, modern forms has been applied with a pallet of rich dark finishes to create Modern Metropolis and is the second Kirkpatrick collection to be launched after the successful contemporary Objets Collection in 2014. Kirkpatrick's inspiration behind the collection was to utilize "Decca's recognition as one of the world's finest furniture manufacturer's", he noted. Sourcing the finest materials, utilizing time-honored furniture making techniques and applying complex finishes.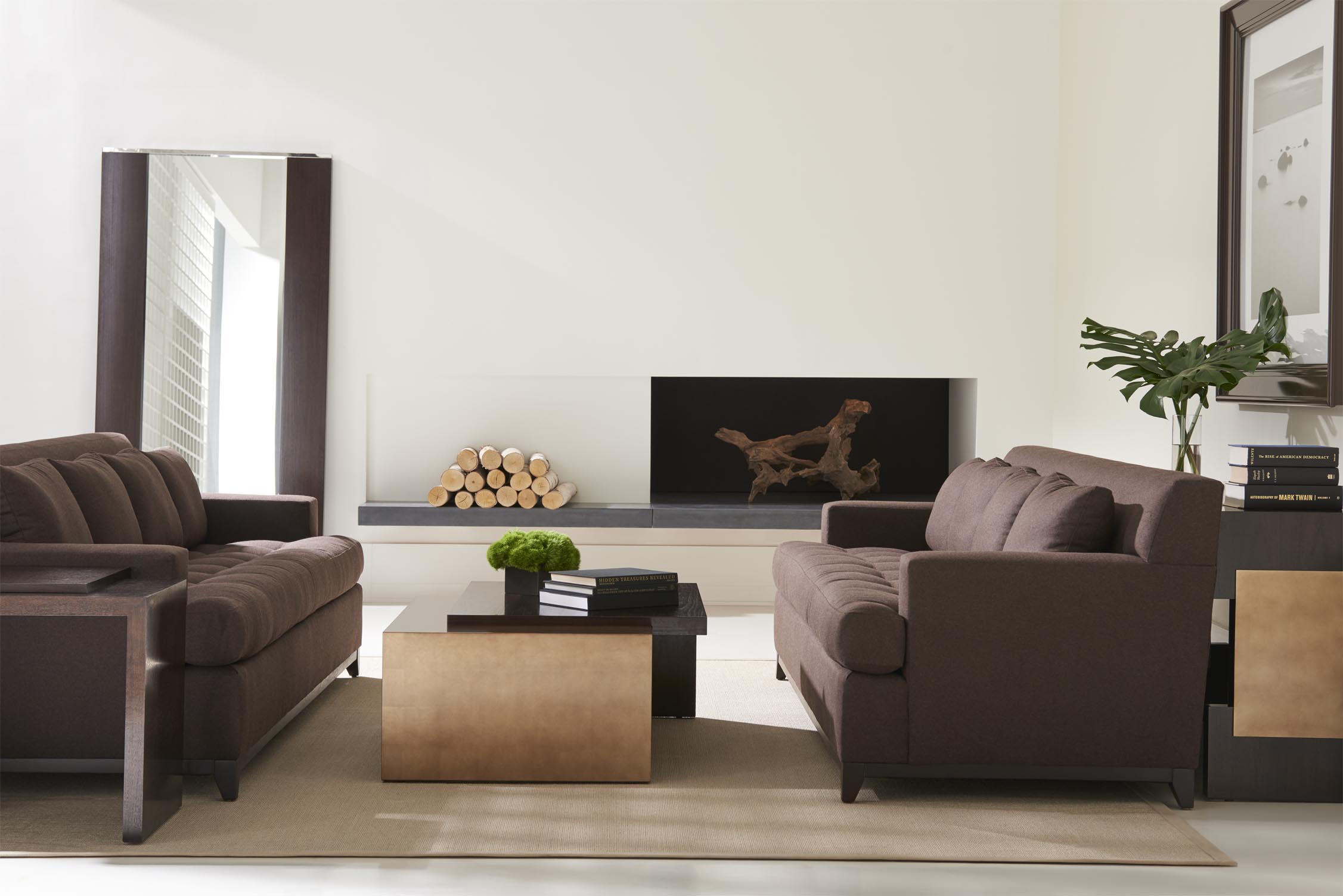 This collection is carefully crafted out of walnut and eucalyptus veneers, along with selective use of stainless steel accents giving each piece a glamorous and standalone presence. Utilising a pallet of rich dark finishes, applied to clean modern forms, Modern Metropolis further defines Kirkpatrick's progressive approach to 21st Century furniture design. The harmonious contrast between dark stained walnut, polished stainless steel and gold leaf is perfect for the modern home.

Link console table is amongst one of the most popular items from the collection with its modern silhoutte and gold leaf accent creating a 'chain link' effect when viewed from the sides. The console table comes in two sizes, regular (w1472 x d407 x h762mm) and large (w1840 x d460 x h810mm). Large Link Console Table can be doubled as a study desk for compact spaces.
Modern Metropolis is constructed of four main finishes. Figured flat cut walnut is a popular choice of finish for the Bolier collections. Walnut is a premium quality heavy hardwood, warp resistance, resillience and non-shrinking characteristics is just among the many reasons why walnut is the favoured wood type. Walnut is also very easy to stain, it's open pores soak in dye without appearing blotchy. Stainless steel was the primary choice for the table feet and can be seen on XO side and coffee table and dining tables.

Shale coffee table is another product where we see dark walnut and gold leaf incorporated into a design, creating a harmony between two luxury finishes.
Reverse Diamond veneer lay up on the XO Side Table.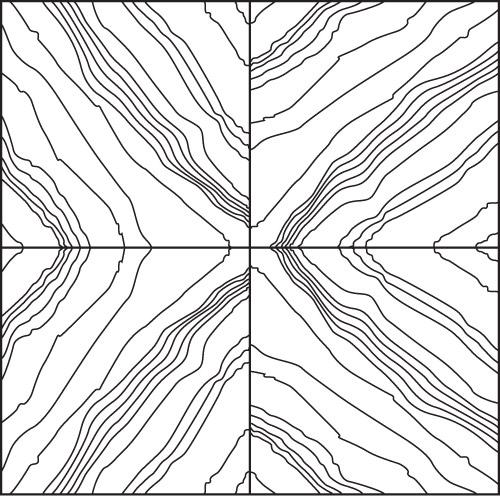 Reverse diamond veneer lay up is a technique used to elevate table tops and exhibits exquisite craftsmanship that Decca stands for. Four equal pieces of veneer are cut diagonally to the usually straight grain in order to achieve this lay up. These are matched so that the grain direction runs toward the middle and creates an 'X' shape.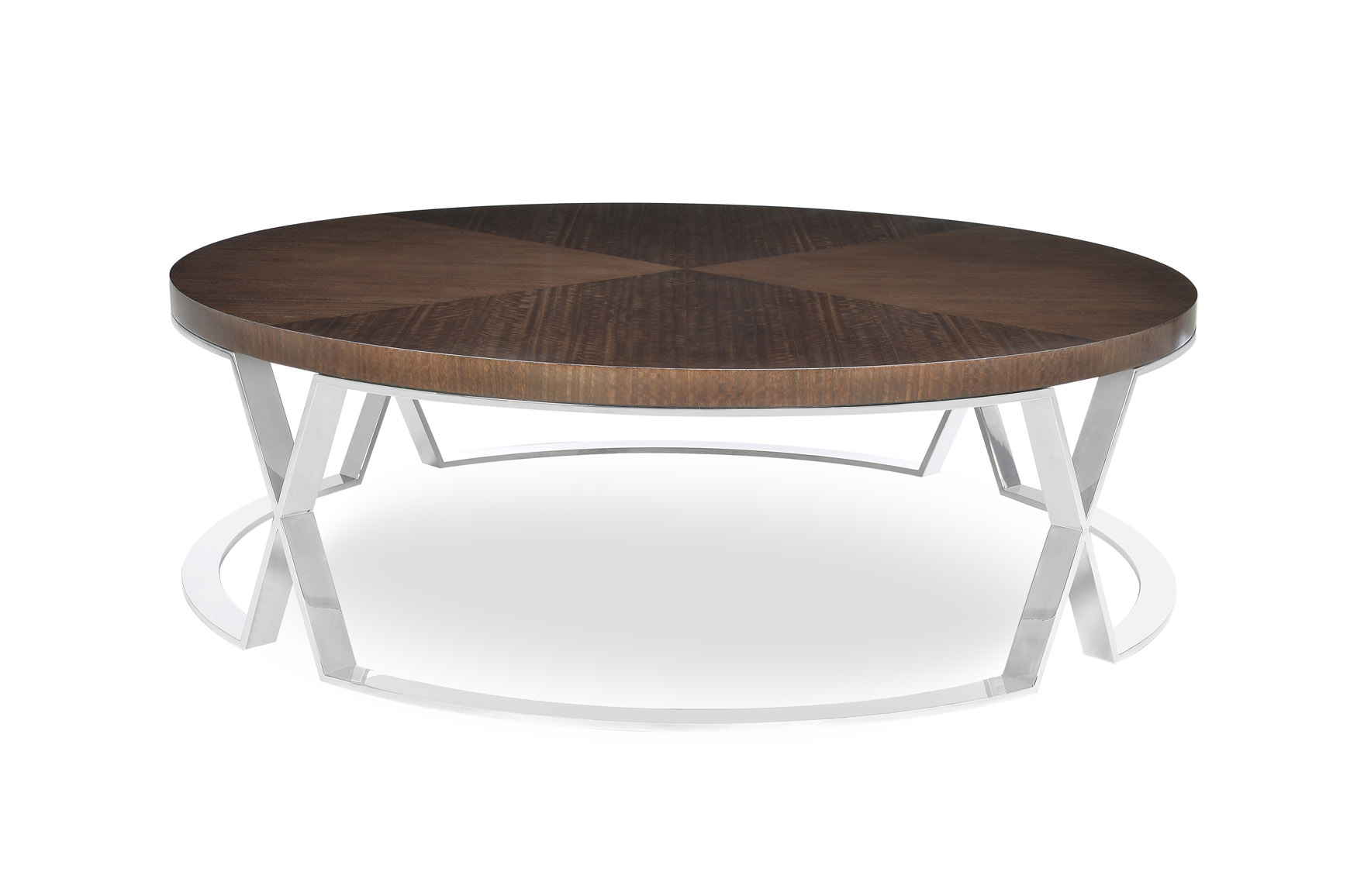 Reverse diamond veneer lay up option is also available on the 43054 XO Coffee Table.
Michael Kirkpatrick is known for his unwavering attention to detail and he starts his design process by carefully contemplating how the materials chosen, form and function of the piece will work with one another, and how they'll define the space they are used in.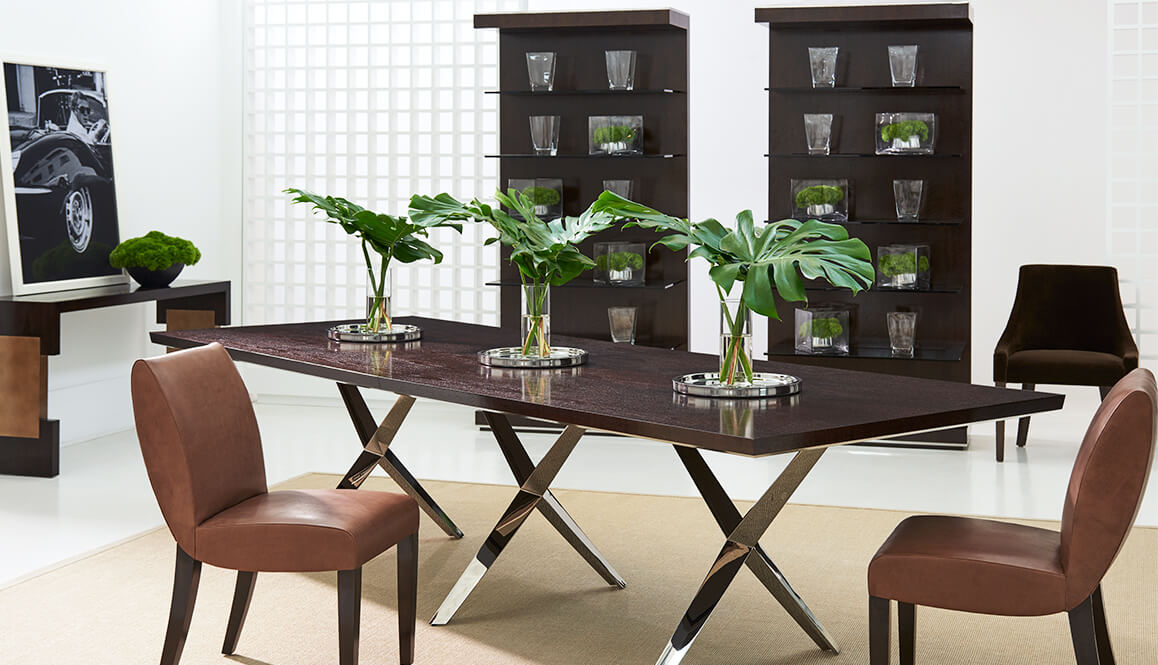 Crafted with walnut and eucalyptus veneers, it is the selective use of polished stainless steel accents that assure each Modern Metropolis piece achieves a glamorous – stand alone – presence.
"Decca's commitment to excellence provides me with the confidence to create cutting-edge designs which bring comfort and style to a home." – Michael Kirkpatrick.
Contact Decca on the BCFA Product Finder.
The BCFA Product Finder is a unique search engine created especially for interior designers to source contract furnishing companies. Utilising this platform will support your findings for upcoming projects, with over 200 members profiles showcasing the latest product launches, new materials available, industry news, and design trends.